from_the vault EP
Working with Element-80 Records Inc. and Mercury Artists Entertainment, Vancouver-based, Souls Rest just dropped their latest music release, "from_the vault".
The 6-song EP fuses live musicianship with electronic production, and tells uplifting stories of love and hope. Consisting of vocalist/producer a.son and rapper abide.n, Souls Rest is intent on bringing fresh new tones to mainstream Hip Hop, RnB, and Soul music.
This EP will remind us about what we like most about both classic and contemporary hip hop/rap music. Direct, lyrical dexterity is coupled with catchy RnB hooks—the result is relevant, melodic and candid music.

While the group draws upon their love of classic hip hop and soul, they remain driven to create a unique and memorable "souls_rest" soundscape.
these shoes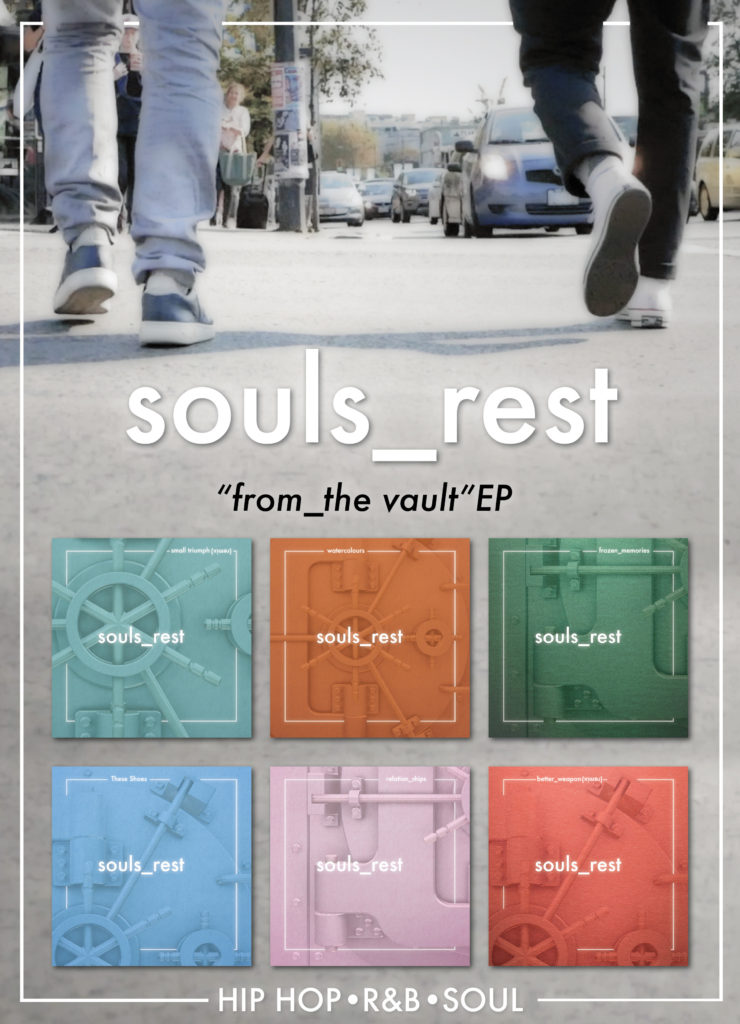 these shoes music video gets 27K views in February 2019.
The idea for the track 'these shoes' came out of a.son's passion for fair trade. Basically the idea that the workers who make the products we buy, deserve to be paid a living wage. #fairtrade
"We wanted to write about the fact that as consumers, the way we spend our money has consequences. When we stop to 'put on the shoes' of people who are working to make what we eat or wear, we realize the need to make an effort to buy from ethical sources." souls_rest
"these shoes" is the first radio release from the EP, and will be followed up with "small triumph remix"
(30K views in Feb 2019)
---
Souls Rest is currently completing the last few songs for their next multi-single release set for later in 2019. "Close Enough" will feature songs that are focused on the mainstream hip hop and pop music markets.

from_the vault EP Videos
small triumph remix – https://youtu.be/u0aDWqXHtE0
these shoes – https://youtu.be/DilnIMV6pWs
watercolours – https://youtu.be/YGNrhHoquNM
frozen memories – https://youtu.be/mN08OBI4Uzo
Links:
Spotify: https://goo.gl/ZvjKHC
Apple Music: https://goo.gl/zmk3vq
Instagram: https://www.instagram.com/soulsrestofficial/
Facebook: https://www.facebook.com/soulsrest/
Twitter: https://twitter.com/SoulsRest
Management:mailto: [email protected]