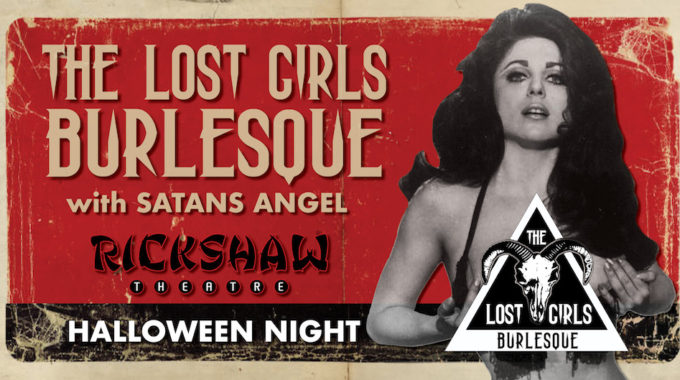 Lost Girls Burlesque with Satans Angel
at The Rickshaw Theatre
October 31st, 2018
Doors @ 8pm
Show at 9pm-11pm.
Facebook Event Link
This Halloween, The Lost Girls Burlesque will once again rise from the sexiest depths of darkness. For the first time ever, these deadly babes will open their season at Vancouver's iconic Rickshaw Theatre. Burlesque legend, and "The Devil's Own Mistress", SATANS ANGEL will set the stage ablaze along with performances from Ava Lure, Gidget Gravedigger, Cherry On Top, and more…
Presented in continuous, non-stop, hot-action format like you've NEVER seen before. In technicolour and high-definition! No emcees, no holds barred, NO MERCY! A daring exposé of flesh that will tantalize and torture even the most respectable members of society. Prepare to be ripped apart by seduction as The Lost Girls bare it all, again and again… and again.
With performances by:
Calamity Kate
Justine Sane
Ginger Avenue
Bunny
Ava Lure, Gidget Gravedigger
and Cherry Ontop
$20 Early Bird Theatre Seats
$25 Early Bird VIP Theatre Seats
VIP table for 2, 4 or more on sale now!!!!
*Audiences 19 and over only.
LIVE Music by: Cawama (Garage/Surf/Punk)
Venue Sponsor: Steam Whistle Pilsner #purepilsner